THE MANUAL CHAIN ​​HOIST IS FUNDAMENTAL FOR LIFTING OPERATIONS
The use of the manual chain hoist is varied in the broadest range of activities, such as shops, industries, civil construction, warehouses, carriers, cargo terminals, agribusiness, mines, stage shows, docks and shipyards.
Because it is a lightweight equipment and allows coupling to other equipment, the manual chain hoist can become mobile or remain attached to a specific point within your project or in an open location, even without the supply of electricity, its activation is practical and manual. The 360 ​​° swiveling model allows greater operator safety and time optimization during operations.
FUERTES offers the manual chain hoist in two models, to better meet your needs. With a wide variety of load capacity, each model has specifications in accordance with the current safety standards and provide lower maintenance costs.
The manual chain hoist can be used as a crane. Its operation consists of its extreme resistance chains, once manually activated, passing through sheaves and lifting the load with minimum effort, within the nominal load capacity of the equipment. Coupled to a trolley, it becomes mobile and even allows its operator to position it on the load, providing more security in the work performance and without the need for specific technical knowledge for handling the equipment.
Designed and manufactured to provide easy triggering for the operator, the manual chain hoist has loading chains in alloy steel, extremely resistant loading brake, hooks with safety locks and rubberized lever, all designed so that there is a minimum effort in the execution of the activity.
Different dimensions and capacities were established to provide a quality service, adapting to the needs of each situation presented. For this, we have a team of trained and experienced professionals to indicate which manual hoist is ideal for your business.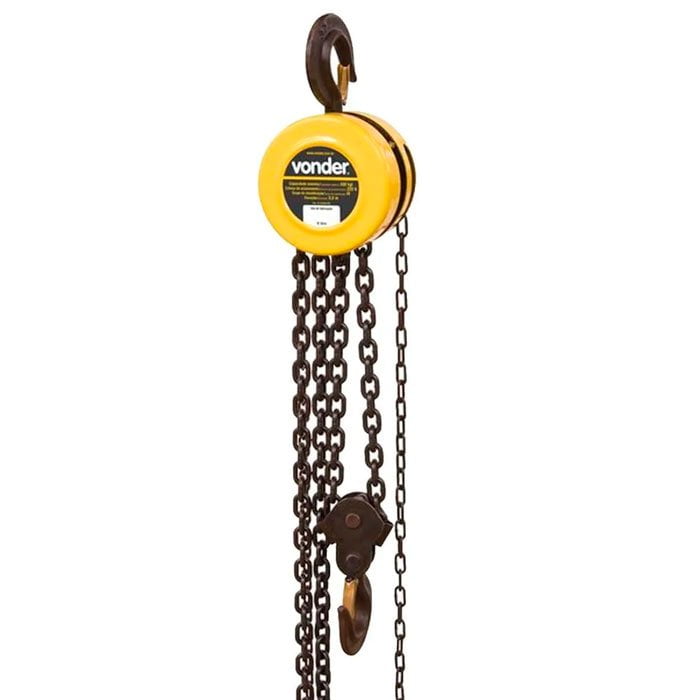 CHARACTERISTICS OF MANUAL HOISTS
INSTALLATION PRACTICALITY
EASY HANDLING
LIGHT AND COMPACT
ALLOY STEEL LOADING CHAINS
LOAD AND SUSPENSION HOOKS WITH SAFETY LATCHES
MACHINED GEARS IN TEMPERED STEEL
PRECISE CHAIN ​​SLIP
BRAKE SYSTEM INCREASES SAFETY
GREATER DURABILITY