A SPECIFIC GRAB FOR EACH TYPE OF MATERIAL- GRAB FOR SCRAPS
Each material has its specific properties and a grab for scraps as well as other types of unloading material must adjust to these properties. A grab that will work perfectly for coal can face great difficulties when handling iron ore or other materials.
The grabs produced by Verstegen, a partner of FUERTES, are designed for the use of the most diverse types of bulk such as scrap, coal, iron ore, grains, fertilizers, phosphates etc. In addition to the grabs for the materials mentioned, Verstegen has special solutions available for other types of bulk that have specific properties.
To obtain greater productive capacity, a grab must have the largest possible volume with the optimization of its gross weight. This is only possible with an optimized design and the use of the best possible materials. To increase strength and minimize wear, each Verstegen grab is supplied with shells made entirely of steel with high abrasive wear resistance.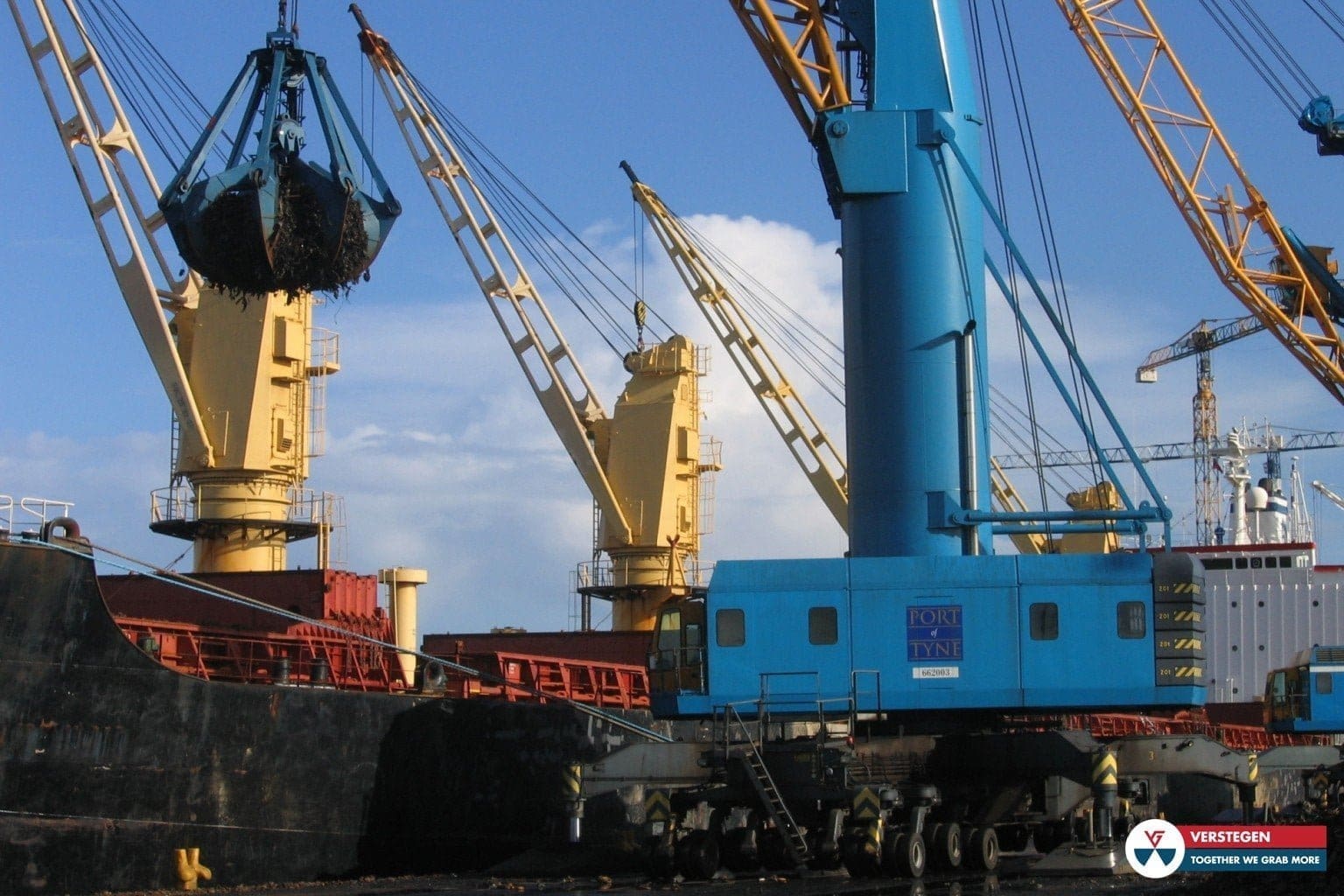 DIFFICULT HANDLING MATERIALS – SCRAP CLAW
For difficult-to-handle materials such as steel scrap, stones, rocks or pig iron, the Verstegen scrap grab known as the Orange Peel grab is the best solution. The scrap can vary in shape, having different sizes, requiring that the scrap grab has a specific shell model depending on the type of scrap to be moved.
A shredded scrap grab will not perform well when handling heavy melt scrap (HMS I-II), so Verstegen has developed different models that vary in the number of grabs, the space between them and their shape.
The shredded scrap is divided into pieces not exceeding 200mm. As the material is easy to penetrate, the scrap grab will receive a volume greater than the projected capacity of the scale. Due to the high closing forces, the material is strongly compressed within the shells, which results in higher densities.
Heavy scrap (HMS I-II) is much more difficult to handle than shredded scrap due to the large parts, it can be difficult to penetrate the material and the forces acting on the grab can be very high. In this way, the Verstegen scrap grab for the HMS I-II is supplied with resistant shells made of Hardox steel and built open, providing better penetration.