MORE SAFETY IN LIFTING WITH THE DIN 3091- COMPACT THIMBLE WIRE ROPE
Known for being another accessory that is used frequently in the area of ​​lashing, lifting, moving or supporting loads, the compact thimble for wire rope serves, exclusively, to protect conventional and special wire ropes in contact with equipment parts. It is a type of termination commonly used in mobile cranes and their pendants, port cranes, overhead cranes and other applications.
Thanks to the use of this equipment, many accidents are avoided, since a worn wire rope would be more susceptible to breakage and, consequently, to serious accidents, not counting the possible damage to the transported cargo.
Available in several sizes, the compact wire rope thimble has different measures in the hole where a solid locking pin will be connected. For the product to have a perfect fit in the wire rope anchoring device, it is important to check the hole measurements available for each wire rope diameter. It is possible to perform the customization of this equipment, increasing or reducing the diameter of an existing hole through machining (hole augmentation), and also reducing it through the insertion of a sleeve.
The use of the sneakers is made for hoisting loads with tons of weight. Because of this, it is extremely important that you purchase a thimble in perfect condition and quality. These are products that cannot fail in large-scale and responsible operations.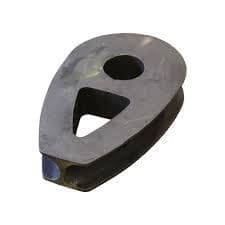 In the segment of cargo lashing, handling and lifting, the technical normative requirements are enormous, for this, FUERTES has competent professionals identified with this concern, establishing a partnership with certified suppliers, and providing our customers with training and qualification of the professionals, as well as all the necessary guidance for maintenance, prevention, disposal and, specific knowledge for safe use, giving confidence in a better performance of the products purchased, suitable for each client operation.